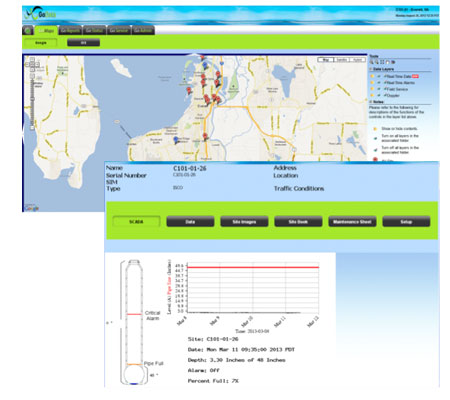 From the login button within www.godata.com,
Users can access their data from any web-enabled device via their own secure username and password.  Once logged in, you'll be directed to the project GoMaps screen.  Standard features within GoMaps are :
GPS located and Type Specific Monitoring Station Icons.
Optional Map/Satellite or GIS views
One-Click Status via HMI screen for each site
Alarm Status Button – Allows the user to immediately know if there are any issues with their monitoring stations.
HMI screen provides options to view all data and metadata – pictures; monitoring station setup information; site maintenance information; and data logger channel and alarming parameters.
GoMaps is an excellent place to start when first logged into your project.  It gives the user an immediate visual confirmation of monitoring station status.